N.B. – This official statement on impunity of the UP College of Mass Communication is signed by 23 faculty members, 13 staff and 71 students led by Dean Roland B. Tolentino.
UP CMC remembers November beyond the massacre
November 23, 2014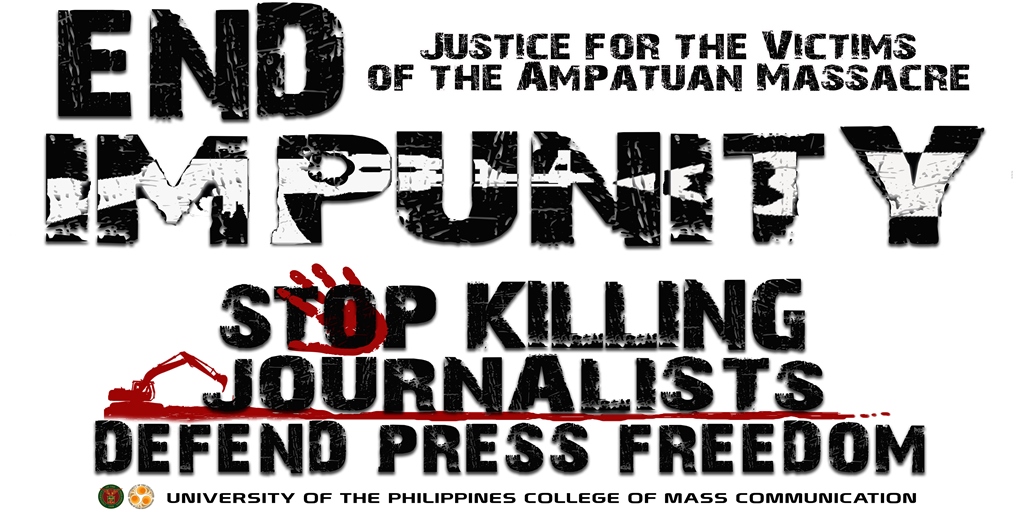 The University of the Philippines College of Mass Communication commemorates in November not just the fifth year of the Ampatuan massacre but also other events related to impunity like the 10th year of the Hacienda Luisita massacre and the October 11, 2014 killing of Jennifer Laude (whose 40th day of murder happened last November 20). Closer to home, we should remember that it was also in November 2010 that UP botanist Leonard Co and his two companions were murdered while doing field research in Kananga, Leyte.
As the world observes the fourth International Day to End Impunity on November 23, we take this opportunity to remind the government of its utter disregard for the people's basic rights. It has not done enough to protect and uphold the people's welfare, much less give justice to the victims of human rights violations like the massacre of 58 people (including 32 journalists and media workers) on November 23, 2009.
Under the Aquino administration, 25 journalists have been killed in the line of duty, based on data from the Center for Media Freedom and Responsibility (CMFR). The powers-that-be have become enemies of free expression with the passage of laws like the Cybercrime Prevention Act of 2012 and the failure to pass an authentic Freedom of Information Act.
In our past statements, we have vowed to continue remembering "what must not be forgotten". We also demanded "the end to sustained harassment and violence against media practitioners" even as we pledged "to tirelessly support their efforts to demand that justice be served to all victims of media violence."
As we repeat the call to end the culture of impunity in the country, we call on the people to remember the month of November beyond the massacre. The culture of impunity goes beyond media killings. It is imperative for students and educators of communication and media to join the people's struggle for justice and consequently lend their voices in calling for an end to the culture of impunity.
COLLEGE OFFICIALS
Dr. Roland B. Tolentino, Dean
Prof. Danilo A. Arao, Associate Dean
Prof. Evelyn O. Katigbak, College Secretary
Prof. Maria Diosa D. Labiste, OIC, Graduate Studies Department
Prof. Maria Rosel S. San Pascual., OIC, Communication Research Department
Prof. Lucia P. Tangi, OIC, Journalism Department
Prof. Roehl L. Jamon, Director, UP Film Institute
FORMER DEANS
Prof. Luis V. Teodoro
Dr. Georgina R. Encanto
FACULTY
Broadcast Communication Department
Dr. Perlita Manalili
Dr. Elizabeth Enriquez
Ms. Ivy A. Claudio
Communication Research Department
Prof. Christine R. Cox
Prof. Randy Jay C. Solis
Prof. Julienne Thesa Baldo-Cubelo
UP Film Institute
Prof. Sari Raissa Ll. Dalena
Prof. Robert Rownd
Prof. Barbara Politsch
Prof. Patrick Campos
Prof. Jose Gutierrez III
Lecturers
Renante S. Saliva
Bryan Quesada
Carlo Pangilinan
ADMINISTRATIVE STAFF AND REPS (13)
Teresita D. Santos
Jamela C. Tolentino
Janette Pamaylaon
Gina Villegas
Israel Bufete
Jacqueline Manalo
Aaron Alexander Noel
Marianita P. Cinco
Rosalita S. Burlat
Rhonald D. Juanillo
Lyka Mari C. Napiñas
Irene B. Sia
Hermana Z. Dela Paz
UNDERGRADUATE STUDENTS (71)