URGENT MEDIA ADVISORY
March 27, 2014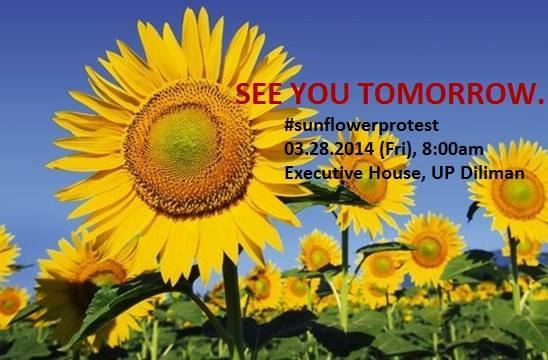 Concerned UP students, faculty, staff launch #SunflowerProtest as BOR meets Friday (March 28)
"Something big" is about to happen and it has to do with barricades and sunflowers.
The University of the Philippines Board of Regents (UP BOR) will meet on March 28 (Friday), 8:00 a.m. at the Executive House, UP Diliman (UPD), Quezon City to decide on the change in the start of the academic calendar from June to August 2014.
Last March 24, the UPD University Council (UC) reversed the December 2 position to reject the shift in the academic calendar and decided to push for the change, together with other constituent universities of the UP System. This happened despite the opposition from various organizations of students, faculty members and staff. There were also questions as regards procedures that undermined democratic governance at UP, as in the case of calling for a referendum instead of bringing the matter directly to the UPD UC.
While there are claims that the March 28 BOR meeting is just a formality, concerned UP students, faculty and staff will troop to the Executive House to register and dramatize their protest.
Dubbed the #SunflowerProtest, the protesting groups will also use the sunflower as the rallying point in articulating other important issues in UP like the renaming of the College of Business Administration to Virata School of Business, the continuation of freeze hiring of staff in the university and contentious provisions in the code of student conduct.
Barricades will be set up to send a strong message that opposition to such policies must not be ignored.
WHAT: Sunflower Protest

WHEN: March 28 (Friday), 8:00 a.m.

WHERE: Executive House, UP Diliman

Photo opportunities and media interviews are available.

Barricade of protesting students, faculty and staff before the start of the BOR meeting.
Visual representation of sunflowers as point of opposition – this is the last graduating batch which will witness the sunflowers in full bloom in April. Future graduation ceremonies in June would make it practically impossible to ensure the planting of sunflowers due to the rainy season.